Nick Kyrgios saved two match points on his way to completing a remarkable comeback victory over Frenchman Ugo Humbert in a five-set thriller at the Australian Open last night.
In the span of just under an hour, Kyrgios produced some stunning tennis to turn the match on its head and book his spot against third seed Dominic Thiem in the third round.
The 25-year-old looked like facing an early exit with Humbert leading two sets to one with a break in the fourth and playing some brilliant tennis of his own.
However, with Humbert serving for the match, Kyrgios seemed to go into a different zone.
Kygios saved the first match point, but it was shot and reaction after saving the second that showed he was starting to lock in.
With Humbert approaching the net, Kyrgios ripped a backhand winner straight past him and couldn't help but smile. He then let rip a forehand winner to break back to set up a tiebreak which he won with ease.
The Aussie took control early in the fifth set with a break and from there he managed to hold his serve on his way to a memorable 5-7, 6-4, 3-6, 7-6, 6-4 victory.
The win clearly meant a lot to the Canberran as he dropped to floor after securing victory and revealed post-match what was going through his head.
"That was one of the craziest matches I have ever played," Kyrgios said in front of a raucous crowd at John Cain Arena.
"If you were in my head, I was thinking about all the sh*t I was going to cop if I lost that match. Honestly, I don't know how I did that, I don't even know what to say, I'm lost for words.
"I just remember down that end when I was a couple of matches down and I got out of it, it was a strange match if you were inside my head. There were some dark thoughts, I tell you what."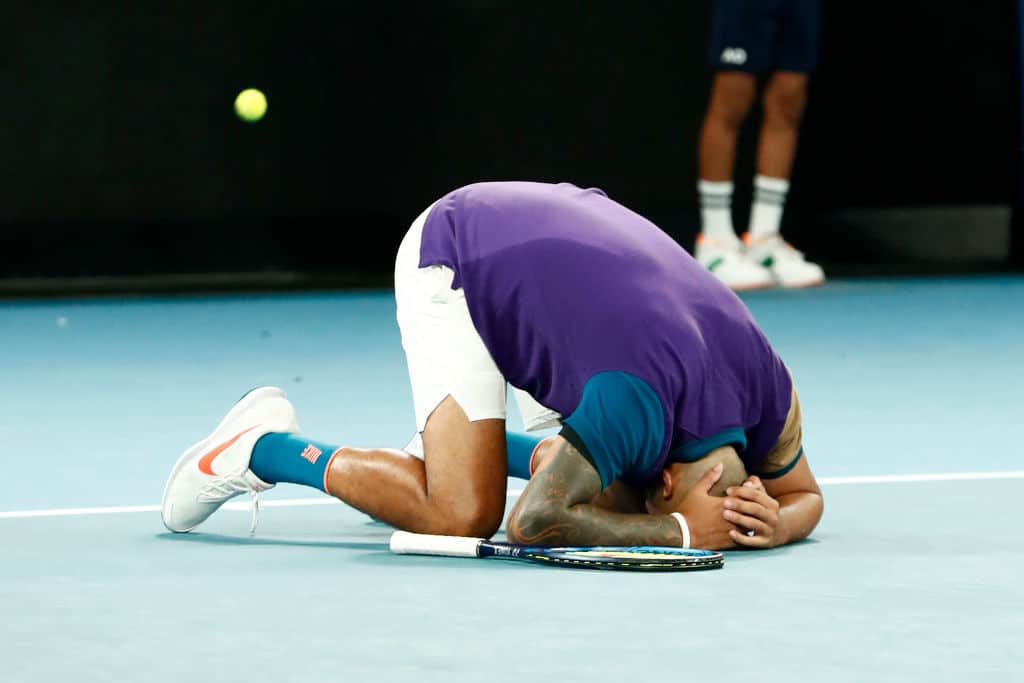 Kyrgios erupts over net cord technology
Despite the quality of the tennis played, the match wasn't without controversy with Kyrgios blowing up at chair umpire Marijana Valjovic early in the fifth set about the automatic net cord system.
Kyrgios elaborated on his thoughts on the system in his post-match press conference, saying that perhaps an upgrade is in order.
"It's tough because having technology like that, you sound like an idiot trying to argue against it," Kyrgios said.
"But in saying that, even when he was serving, he (Humbert) served a ball that was like literally about this far (gestures) over the net and the net thing went off. I was like, there's no chance this is accurate, in my opinion.
"I just think when we're 1-0 in the fifth set, 30-all, and she's trying to tell me, 'I understand that it's affecting the match', I'm like, 'I don't think you do; there's, like, plenty riding on this match'. It's hard to just take that as an answer, like, 'I understand'. You don't understand.
"But I don't know what you can do about it. Maybe they need to upgrade their technology because the remote thing looks whack."
For more sport: