Whether it's a café curating healthy hampers or pantry packs, a gin joint turning its liquor into medical-grade hand sanitiser, or a gallery owner turning his landscape photography into 'essential' jigsaw puzzles, local businesses are innovating in surprising ways during the COVID-19 shutdowns.
This pandemic has seen life in Canberra – and around the world – change so significantly of late that it bears little resemblance to how we were living this time last year. Kids were going to school, working Australians were, well, working, people were taking holidays domestically and overseas, exercising in groups, dining out, and going to the cinema, festivals and live performances. Now, we're all heeding advice to socially distance and stay at home to help stem the spread of coronavirus.
Many of our favourite places – restaurants, cafes, bars, hotels, live entertainment venues, retailers, national institutions and tourist attractions, even public spaces such as Tidbinbilla Nature Reserve, the Botanic Gardens, playgrounds and outdoor exercise stations – are closed. Eateries are available for takeaway or delivery only.
Necessity is the mother of invention, as the saying goes. So, how have local businesses in the Canberra region innovated during the economic shutdown brought about by these unprecedented conditions in order to survive, and in some cases, to thrive? Read on to find out.
And if you're in business, or want to support local business owners, please email [email protected] to let us know what innovations are happening in your neighbourhood.
Monster Kitchen and Bar at Ovolo Nishi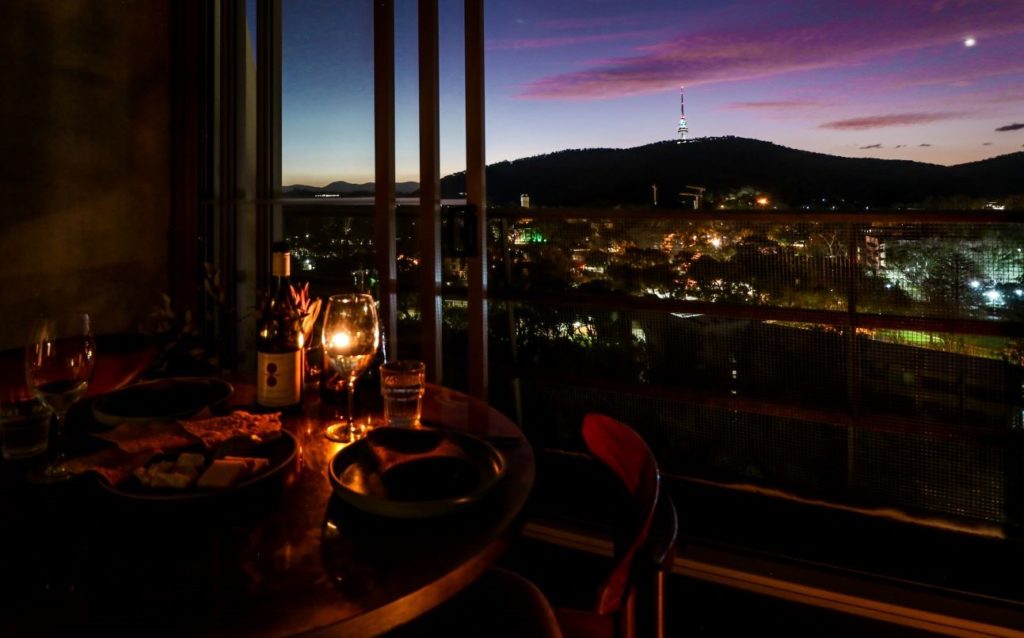 DELI by Monster is the latest innovation to keep business going through the pandemic at the Ovolo Nishi's Monster Kitchen and Bar, offering a traditional and plant-based deli and groceries, as well as a select menu of the Monster favourites to take home as ready-made meals or for home assembly.
"In addition to new and familiar, fresh range of offerings, Canberra has access to Monster's cellar door, with our curated wine lists available by the bottle," says Ovolo Hotels' group food and beverage director, Vince Lombino.
There is also the option for a private dining and staycation experience, with dinner from Monster and an optional stay in one of the Ovolo Nishi hotel rooms.
"Restaurant in Room offers a private dining sanctuary. For those who need a date night out of the house, a change of scenery and wanderlust seekers who are seeking a vacation via staycation, Monster is offering a set menu in Ovolo Nishi's hotel rooms, for up to two guests."
Priced from $199 per couple for three-course menu; matching beverages and accommodation extra.
Monster Kitchen and Bar, Ovoli Nishi, Edinburgh Avenue, Canberra | monsterkitchen.com.au
Colleen's Lingerie and Swimwear
While Colleen's Lingerie and Swimwear in Garran has reduced their boutique's opening hours (10am-3pm weekdays), they're continuing to support clients through these uncertain times with their online store and friendly, expert advice available for anyone who needs it.
Store manager Karen Swan says while the Colleen's online shop has always worked in partnership with the store, it is now "more important than ever" as people stay home and practise physical distancing.
"Our doors are still open, but the online shopping gives women the option to browse from the comfort of home," she says. "Our entire range is online".
While the store remains open with reduced hours, Karen says they're still available via phone or email for advice on fit and the range of products for those post-breast cancer diagnosis or surgery.
"This is a time of uncertainty, but for women who have been newly diagnosed or are undergoing treatment, they might understandably be feeling a heightened sense of anxiety," Karen says. "We're a phone call away – whether it's just someone to listen or questions about what they need to be comfortable at home post-surgery. Breast cancer diagnoses don't stop; people still need our products and our service."
Perfect for Mother's Day, Colleen's has a great range of sleepwear for the cooler months ahead, including collections from brands Givoni and Amoena. They also stock a range of soft, non-underwire bra styles, for those looking for support and comfort while working from home.
"Visually, it's loungewear as well as sleepwear. With some of the pyjamas, you could do a Zoom meeting and no one would know you're in your jammies."
Karen says while the way they help their valued clients may have changed slightly, their priority is still to support their customers, whether online or in-store.
Shop 6, 22 Garran Place, Garran; Current opening hours: Monday-Friday 10am-3pm; T: 6285 1311; W: colleens.com.au
As Nature Intended
Canberra's popular organic and wholefood café, As Nature Intended in Fyshwick, is responding to the challenges of COVID-19 with hampers full of happiness.
As well as offering takeaway from their Dairy Road location, they've also expanded their menu to create a range of happiness-filled hampers packed with healthy and nutritious dining options.
As Nature Intended owner Beata Wilder says the wholesome 'happy hampers' have been designed to bring joy to their customers in these uncertain times, with something different and unique to other takeaway options.
"I just want to do something different. We're trying to do a hamper for people who want to eat healthy – and bring a smile to their faces."
The nourishing hampers include items like freshly squeezed juice, meals, salads and sweet treats. There are three options to choose from: the Vegan Decadence hamper, with homemade soup, baguette, juice, vegan chocolate, cheese, cake and croissant, and salad; the Treat for Two, with baguette, cabbage rolls, roast veggies, salad, juice, muffins, bliss balls and fruit; and the Take Care, including baguette, croissant, muffin, Toblerone slice, juice, soup and fruit.
Beata says the hampers are perfect for gifts – such as Mother's Day, new parents, get well or simply to show you care, especially during isolation. The hampers are environmentally conscious, too, for guilt-free giving, as well as being able to be customised to accommodate dietary requirements and preferences.
"We're using a special plastic basket, which can be returned to us and reused, and cellophane not plastic wrapping. We're trying to make these as environmentally friendly as possible."
The hampers give customers the opportunity to eat healthy meals while staying home and supporting local business.
"It's something different to put a smile on peoples' faces," Beata says. "It's delicious and easy as well."
The hampers full of happiness are available from Monday to Friday, starting from $45, for pickup or add an extra $5 delivery (in nearby suburbs), and will be like a little piece of Canberra's favourite organic café to enjoy at home.
To order, give As Nature Intended a call on 6253 0444 or send a message via Facebook.
Red Baron Pantry
Red Baron have found a way to innovate while maintaining work for their suppliers and staff by introducing Red Baron Pantry, a home food delivery service run out of their Symonston premises.
"It's been a little bit tough in terms of maintaining our current staffing, rosters, and how much we're purchasing off our suppliers," Red Baron owner-operator Peter Vidovich said.
"We decided to start free delivery of fruit and vegetable packs, as well as a lot of staples and favourites from Red Baron including our coffee, chai and muesli."
"A lot of people have expressed that they're really appreciative that we provide a service when they can have their groceries left on their door," he said.
Mr Vidovich said it's been great to call on staff to help pack and deliver the food boxes to Canberra, Queanbeyan and surrounds.
Customers can choose from up to five different food packages, and order from Red Baron online (redbaroncanberra.com.au) up until 2pm the business day prior to delivery.
Beef & Barley
Kingston Foreshore eatery Beef & Barley has designed a series of 'lockdown boxes' available for takeaway.
Owner Lauren Hassall says the team have "tried to think about what people need and we can provide", and have introduced the boxes to give the community "the fun dining experience they used to come to us for".
"Good food – of course – but more so for a cute date, to entertain the kids, or the opportunity to celebrate with the people they love," she says.
Options include a box for couples working from home in need of a date night, a kids' burger bar box for little chefs to DIY their own dinner, and a date box for those who can't see their date in person, with one box for you and one box to deliver to your date and enjoy together over a video call.
Beef & Barley, corner of Kingston Foreshore and Eyre Street, Kingston | 6199 3366 | beefandbarley.com.au
Beyond Q
Local bookshop Beyond Q is providing comfort for the soul with their book-filled care packages. Store owner Simon Maddox said the shop has limited their trading hours to four hours a day, between 10am and 2pm, as well as introducing "a couple of new ideas".
"The staff … all came together with the idea of doing care packages, which is where we get people to give us a budget and tell us what genre they're interested in and then we surprise them with a few different bits and pieces," he said.
"And so far they've had a really good reception. People are really happy with what they're getting."
The care packages come with thoughtful touches, too; if yours includes a sad movie, expect a box of tissues! The in-house café has also moved to serving the Weston Creek community with takeaway options.
Beyond Q, Weston Arcade, 11 Brierly Street, Weston | 6162 3999 | beyondq.com.au
Elliott Gray
With many workers being made redundant due to the unfolding COVID-19 situation, Canberra-based recruitment agency Elliott Gray has implemented a cost-neutral fee based service to help people find temporary employment. It is hoped the initiative will motivate any businesses and employers who have been fighting to keep up with an increased workload to contact them for help.
And it's not only Elliott Gray that is working to give back to the community.
"I have seen many socially responsible organisations all trying to help in any way they can," Elliott Gray director, Elsa Gray-Murphy said. "Certainly we have had many of our clients reach out to offer a hand to us as a small business. As an example, Yellow Edge, a training provider has reached out to us to offer in partnership with Elliott Gray a free 'digital on-boarding and management' course to employers."
Find out more at elliottgray.com.au
Hotel Realm
Working from home can pose a number of challenges but for those who want a safe, tranquil retreat Hotel Realm is offering hotel rooms for hire between 8am-6pm for $100 per room (one occupant only).
Director of Hotels for Doma Hotels, Patrick Lonergan, said the new service might not be one people use daily, but could be an investment once a week, fortnight or month for some respite or a change of scene from working from home.
In addition to their home office offering, Doma Hotels is selling grocery boxes featuring fresh produce or essentials, while Ostani, their in-house restaurant, is offering takeaway meals.
"Through these initiatives, we are about keeping as many people as we can on the books and employed," Mr Lonergan said. "We are trying to do everything we can do to keep ourselves active."
Hotel Realm 18 National Circuit, Barton | hotelrealm.com.au
Canberra Eats
it's a potential David versus Goliath battle as a new local web-based food delivery platform, Canberra Eats, takes on the multinational platforms – paying workers more and charging eateries less.
Canberra Eats is solely employing hospitality workers as drivers, paying them what equates to about $30 per hour, which Mr Hansen estimated is roughly twice what multinational food delivery service drivers are paid.
Canberra Eats founder Chris Hansen said they're charging restaurants half what the multinationals charge.
The platform operates by requiring orders in by 5pm, with a $55 minimum order, and $10 delivery fee to customers.
Currently at least 17 restaurants are on board servicing the Inner North and Inner South, with plans to expand over the coming weeks.
Find out more at canberraeats.com
Amici Bar
The ban on dining in has forced Lala Hospitality Group to close three of their five venues, leaving Bleachers Sports Bar and Amici Deli & Wine Bar open for takeaway and delivery.
Sales and Marketing Director at Lala Jessica Arena told Canberra Weekly they've become a makeshift grocery and liquor store amid the current restrictions.
Amici is selling everything from toilet paper, bread and milk to their usual fare of wine, cheese, sandwiches and deli goods.
"If selling a few bottles of wine every day can keep our chef employed, he said to me yesterday 'I didn't think I'd be going to culinary school and coming out selling toilet paper' … its survival mode," Ms Arena said.
"They can online order, we've set up a drive-through out the back so you can drive in, call the number, and we'll run it all out to your boot if you need to be completely contact-free," she said.
Amici Deli & Wine Bar 59 Northbourne Ave, Canberra | amici.bar
GymQuip Fitness
Sporting goods store GymQuip Fitness has seen a surge in demand for their strength training products since the announcement of temporary gym closures across the country.
"Weights, bars, dumbbells, kettlebells, squat racks, functional trainers … anything that people can lift is what they were buying," GymQuip owner Dan Rankin said.
"Anything strength really went out quickly, which I had good stocks of because I did pre-empt the gyms may have closed.
"I could easily have sold more than double what I did if I had the stock, and it's not just here, it's nationwide and worldwide; all my colleagues in other countries are saying the same thing," he said.
Mr Rankin is now hard at work with his overseas and local suppliers to restock his barer than normal showroom floor with iron. He expects new stock on the shelves and online shortly.
GymQuip Fitness 16 Goolwa Place, Fyshwick | gymquipfitness.com
Underground Spirits
Underground Spirits has joined a number of distilleries around the country to switch their production to hand sanitiser.
The local business has halted all production of all spirits, to focus solely on production of hand sanitiser for use by frontline medical staff in the ACT. The sanitiser is being produced and sold at cost.
Underground Spirits' owner and head distiller, Dr Toby Angstmann, said they are working with the ACT Government to "ensure that frontline medical staff in the ACT are serviced during this critical time as shortages are apparent. Our sanitiser will go to health carers who need it most including GPs, doctors, nurses, theatre staff, Emergency Services ACT and all health services".
"We are proud to be local suppliers working with the ACT Government and other local businesses, including Bunnings who are assisting with supply of containers. We are all clever and industrious people with a desired and valued skill set and we all need to work together to get through this difficult time."
Find out more at undergroundspirits.com.au
Scott Leggo Gallery
When Prime Minister Scott Morrison called jigsaw puzzles an 'essential item' at a press conference last month, another Scott had just launched a new range of puzzles featuring his own photographs.
Forced to shut his physical gallery in Kingston due to the impacts of COVID-19, Canberra photographer and gallery owner Scott Leggo launched the new product through his online store. Designed to help people in home isolation, the new jigsaw puzzle range features a range of his Australian landscape photographs.
Since launching the range on Monday 30 March, he said sales of the puzzles have kicked off.
The puzzles are available in three sizes (252, 500 and 1000 pieces) with a range of 16 popular Scott Leggo photographs to choose from. They include a photo of gnarly snow gums at Mt Kosciuszko, the Australian War Memorial, Australian Parliament House and more.
The puzzles are made to order, proudly made in Australia and available to order online, with free delivery Australia-wide.
To see the full puzzle collection, visit scottleggo.com
Canberra Southern Cross Club
The Canberra Southern Cross Club (CSCC) is rallying around their community during the COVID-19 outbreak, with employees putting in practice a range of measures to keep their team and venues going strong.
Among the new measures, CSCC is ensuring that all staff members, whether they have been able to provide them with work or not, can get a free takeaway meal every day from the Woden kitchen: "no one on our team need go hungry". All staff have been offered a free flu shot to take pressure off the health system, while CSCC has also stopped charging rent to their Stellar Canberra partners who have been forced to close their doors.
Woden, Tuggeranong and Jamison Southern Cross Club venues are open for takeaway, with a new home delivery offer free for all orders over $20. Snapper on the Lake continues to operate as a takeaway outlet for fish and chips, with social distancing procedures in place, including cashless transactions.
For the club's latest updates, visit cscc.com.au
Check out Canberra is still open to see more: https://www.cbrstillopen.com/