When Fyshwick Café Red Baron opened their doors in December 2019, they had no idea what the elements would throw at them in the months ahead.
As an eatery catering to nearby workers, they had a standard quiet period over Christmas, but have since faced the smokewave, the hail, and now a global pandemic.
"But that's life, you keep going," Red Baron owner-operator Peter Vidovich said.
With COVID-19 restrictions limiting them to takeaway, Red Baron have found a way to innovate while maintaining work for their suppliers and staff by introducing Red Baron Pantry, a home food delivery service run out of their Symonston premises.
"With the current restrictions it's been a little bit tough in terms of maintaining our current staffing, rosters, and how much we're purchasing off our suppliers," Mr Vidovich said.
"We decided to start free delivery of fruit and vegetable packs, as well as a lot of staples and favourites from Red Baron including our coffee, chai and muesli."
Speaking on their second day of operating Red Baron Pantry, Mr Vidovich said the response has been overwhelmingly positive.
"A lot of people have expressed that they're really appreciative that we provide a service when they can have their groceries left on their door."
He said it's been great to call on staff to help pack and deliver the food boxes to Canberra, Queanbeyan and surrounds.
"It's meant that we've been able to go from telling staff that they have no shifts to be able to bring some of them back to kick off a new service.
"The staff are thrilled to be receiving messages, even if they are late at night, to ask if they can come in."
Mr Vidovich also expressed gratitude toward their commercial landlord Evri Group, which has offered a level of flexibility that's allowed his business to continue operating.
Customers can order their food package from Red Baron online up until 2pm the business day prior to delivery.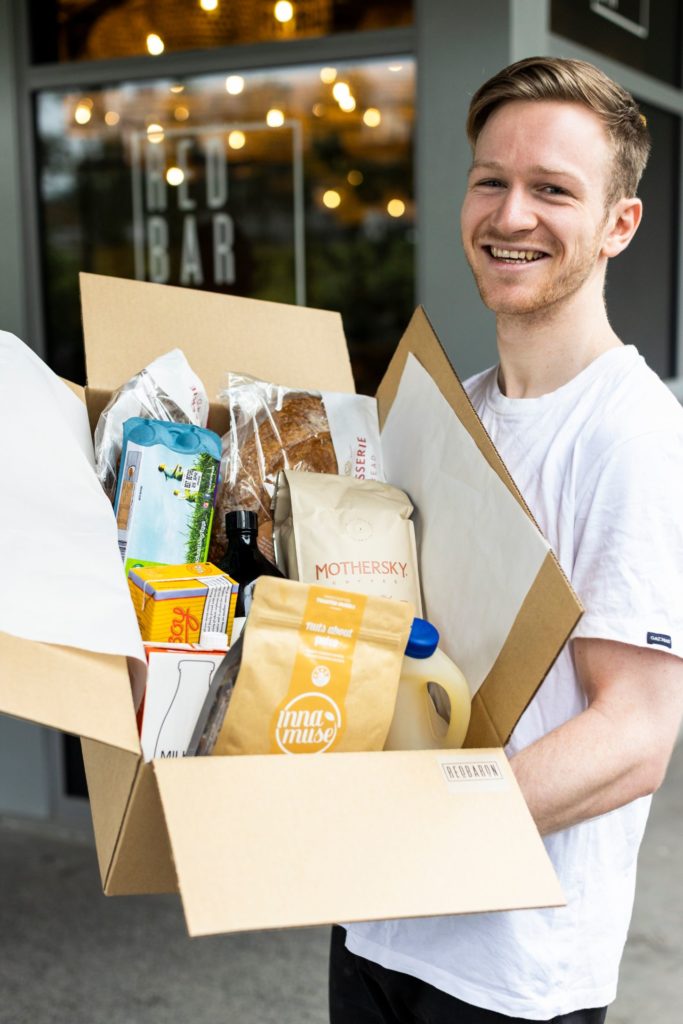 Canberra's appetite puts stood down hospitality staff into new jobs
Similarly, it's a potential David versus Goliath battle as a new local web-based food delivery platform, Canberra Eats, takes on the multinational platforms – paying workers more and charging eateries less.
Canberra Eats founder, Chris Hansen, told Canberra Weekly he established the site after his hospitality recruitment business "came to a grinding halt" about two weeks ago due to the COVID-19 restrictions.
Speaking to Mr Hansen on Canberra Eats' second day of operations, he said the platform was fully established in just a week.
"It was 18-hour days, haven't slept much or seen my kids, I've seen my wife once."
Canberra Eats is solely employing hospitality workers as drivers, paying them what equates to about $30 per hour, which Mr Hansen estimated is roughly twice what multinational food delivery service drivers are paid.
"We're starting out with 12 drivers on the road this weekend; hopefully we can employ 20 or 30 over next few weeks.
"We're looking out for these guys, keeping them employed; hopefully once it's over they can get back to their restaurants."
He also said they're charging restaurants half what the multinationals charge.
The platform operates by requiring orders in by 5pm, with a $55 minimum order, and $10 delivery fee to customers.
Currently 12 restaurants are on board servicing 26 suburbs in the Inner North and Inner South, with plans to expand over the coming weeks.
According to Mr Hansen, the support he's already received from the public and the industry has been exceptional.
"There's been a lot of interest … people are really happy to support their local restaurants," he said.
Find out more at canberraeats.com
See more stories like this: