Put the ho! ho! ho! into the holiday season with this week's nifty Christmas gift guide featuring inspired ideas from some of our region's finest businesses. We've got Christmas covered.
You can still get your photos with the big guy in red this year, with socially-distanced Santa at Canberra Outlet Centre. Inside the centre's magical woodland forest sits Santa's COVID-safe sleigh, where you can take as many photos as you like during your 10-minute session – make sure you have some fun with it! $5 donations to Marymead will be payable by tap and go. Bookings are essential, secure your spot via canberraoutletcentre.com.au
---
Experienced gemmologist and diamond grader, Robert Hunt, has over three decades' experience assisting Canberrans to acquire the best quality precious jewellery.
Robert and the team at Diamonds Manuka specialise in handmade jewellery and offer a wide range to choose from, featuring D colour flawless diamonds, South Sea pearls, black opals from Lightning Ridge, Ellendale yellow diamonds, and a variety of coloured stone jewellery.
Diamonds Manuka has a good supply of Australian Argyle pink diamonds from the Desert Rose collection, with outstanding hue, saturation and tone.
These perfect pink diamonds are rapidly increasing in rarity following the closure of the Argyle mine in the remote East Kimberley region in WA this year.
If you're searching for something unique, shop from a comprehensive range of unset pink and yellow diamonds from which you may select a gem and have a piece of custom jewellery created.
To provide the best service during the festive season, Diamonds Manuka has extended its opening hours to 10am-5pm, 7 days a week.
---
Ho Ho Ho! Santa and his helpers have arrived at Marketplace Gungahlin! Swing on by with the li'l ones and see if they can spot our man in the red suit and his busy little helpers roaming about the centre. You can expect lots of Ho Ho Ho's, laughs, some spectacular acts and plenty of smiling faces! See website for full details.
PS. Don't forget to snap some pics, Santa's helpers would love to help out!
W: marketplacegungahlin.com.au
---
With the closure of Western Australia's iconic Argyle diamond mine in November this year, there has never been a better time to get your hands on one of these rarities.
Thompson Bespoke Jewellers in Braidwood have a large selection of the beautiful pink diamonds, all certified and ready to be turned into a hand-made custom piece of jewellery or held onto for value. Each comes with its very own certification and you can trust Thompson Bespoke Jewellers to offer you the best service and advice.
After more than 30 years' experience in the industry through former store Briolette, Diana will make sure you leave the Braidwood store with everything you need. With the last Argyle diamonds being mined in Australia now, it will only be a matter of time until it is too hard to get your hands on these pieces of Australian history.
---
For 30 years, Elegant Image has provided an extensive range of advanced Skincare/Day Spa products and services into the ACT from the Tuggeranong Valley including facials, skin treatments, massages and peels along with products from Sothys of Paris, Dr Spiller Bio-cosmetics and Australia's own Intraceuticals Oxygen O2. This year, with the move to their new clinic, they have added Cosmetic Tattooing and Microblading along with IR Sauna and Micro-needling, Plasma Fibroblast and Crystaldermabrasion to their extensive IPL and Omnilux pure light therapies.
Every year Elegant Image celebrates the Christmas season with specially priced products and services. This year, along with some in-clinic product promotions, their offers include 25% discounts on their Pamper, Indulgence and Sensation Spa Packages and 25% off their $100, $200, $300, $400 and $500 gift/service certificates.
If you are looking for a gift for that special someone this year, give Mel and her crew a call. They will work with you to target products and services that give the ultimate in pamper and results-oriented skincare.
The management and staff at Elegant Image wish everyone a wonderful Christmas and a prosperous New Year.
---
Christmas trading hours have been set, trucks have been serviced and summer staff rostered – FishCo Fish Market is fully stocked and gearing up to help thousands of customers choose their fresh fish and seafood for their summer celebrations!
With fresh fish and seafood arriving daily, FishCo typically sells five to seven tonnes of fresh seafood every Christmas. They pride themselves in supplying a variety of fresh prawns and oysters and even encourage customers to taste fresh oysters and cooked prawns before buying.
FishCo is open seven days and now also stocks a variety of deli produce, dry goods and fresh fruit and vegetables. This started as a service for those customers who shopped on Mondays and Tuesdays when the nearby markets were closed and has grown due to customer demand.
---
There's no place like home this Christmas.
At the Fyshwick Markets, we have everything you need to keep your family food traditions alive this festive season.
From juicy cherries to fresh seafood, glazed hams and more, allow us to help you serve up home-cooked meals with family and friends this Christmas.
The atmosphere is festive, the parking is free and our hours are extended, with trade from Thursday 17 December up until Christmas Eve.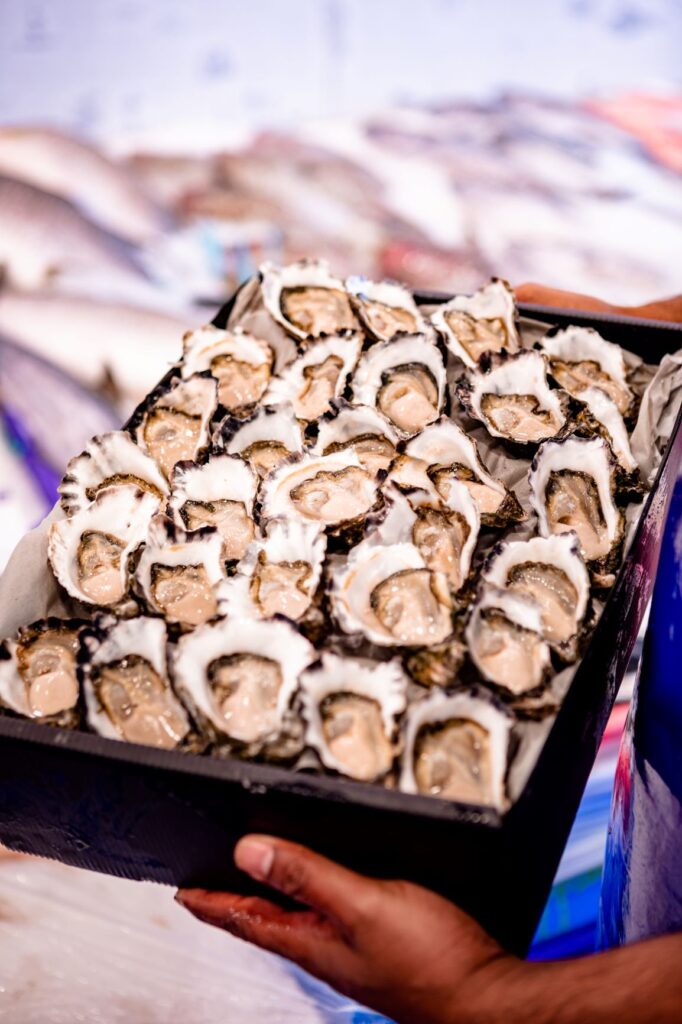 Open:
Thursday 17 December – Tuesday 22 December 7am-5.30pm
Wednesday 23 December 5am-5.30pm
Thursday 24 December 5am-3pm (some stores open later)
Thursday 31 December 6am-4pm
Closed:
Friday 25 December – Wednesday 30 December and New Year's Day
---
If you're looking to buy a considered, premium quality gift this Christmas, look no further than the National Museum of Australia's Museum Shop for a wide range of exquisite products.
Whether buying for him, her, children or pet lovers, indulge them in designer fashion, jewellery, homewares and beauty products; whether it's a pair of funky dot painting socks, a jigsaw puzzle celebrating Australiana, fine soap scented with an intoxicating blend of native ingredients, or any one of a range of native Australian made condiments and seasonings for the foodie in your life.
If sending gifts across the country or even the world, buying through the Museum Shop online allows you to circumvent the local post office by mailing presents out directly – Christmas order cut-off dates can be found on the Museum Shop's website.
---
Summer is upon us, and Total Body Contouring is here to help you achieve the body of your dreams before you hit the beach. The team at Total Body Contouring are the body specialists, with the latest technology and treatments to ensure you feel fresh and fabulous for the festive season.
Three of their treatment offerings – the Cooltech, the TESLAFormer and the VelaShape III – work synergistically to contour the body with non-invasive treatments and no downtime that can be targeted to specific areas of the body. The Cooltech targets and destroys fat cells, the TESLAFormer stimulates muscle contraction to burn fat, and the VelaShape works hard on stubborn cellulite.
The Total Body Contouring team love what they do, so you can be sure you're in the best hands with each and every treatment.
---
Blume Baby Pop
Blume Baby Pop is the newest (and cutest) addition to the globally acclaimed and best-selling Blume Doll line and it has landed in Australia! With Baby Pop, the surprises don't stop, as hidden under every sprout is either a baby or a cute baby accessory … just pull and "POP" to reveal what's inside! Blume babies come wrapped in removable swaddles with unique, out-of-this-world hairstyles on top. Best of all, each flower pot turns into a sweet baby nursery with even more surprises to uncover. Make a splash in the jumbo swimming pool and throw a gender reveal party with colour-changing nappies!
Hidden accessories like Cozy Costumes and Snuggles Buddies add to the collectible fun. Three babies guaranteed and 50 styles in all to fall in love with! Includes 25 surprises, one sticker sheet, and a collectible poster. How many babies will you pop?!
Ages 3+, RRP $25 available at BIG W and Target.
---
Cassidys at Jamison Plaza has wide range of known brands in the right colours and styles to make you look and feel great this Christmas.
Whether you're buying for yourself or you're after the perfect gift for a loved one, Cassidys has something for everyone.
New styles and ranges of daywear, sleepwear, underwear and accessories for women and men have arrived just in time for Christmas.
From classic elegance to boldly beautiful, come in and let our friendly staff help you to find your style at Cassidys.
---
If you're shopping for a Christmas gift for a special woman dealing with cancer or other health issues, the specially trained staff at Colleen's Lingerie and Swimwear are here to help.
Every item at Colleen's Lingerie and Swimwear is handpicked to ensure style and comfort.
We also stock a range of beautiful, breathable sleepwear; hats, sun visors and elegant turbans; care packs for women undergoing treatment; beach wear and active wear.
Please make use of our complimentary professional fitting service and private appointments.
---
Head out for a drive on the weekend to Debbie Maree's Fashion Boutique in Queanbeyan, and you'll be sure to find the perfect Christmas gifts for the people on your list.
And with a great new range of summer lines in Debbie's stylish boutique, you're bound to find something for yourself there, too!
Debbie Maree's stocks a wide range of Australian and international women's brands, with clothes, shoes and accessories for the most discerning fashionistas, as well as ranges from local artisan producers and a number of gorgeous gifting options.
Open weekdays 10am-5pm and weekends 10am-2pm.
---
A teddy bear from Canberra's locally owned and family run The Teddy Bear Shop is a special friend for life.
The Teddy Bear Shop has quality teddy bears and plush for everyone and every occasion – even the family pooch. Collectable bears and plush include Charlie Bears, Steiff, Hermann and Gund to name a few.
The Teddy Bear Shop has been in operation for more than 40 years and now have people who received their childhood bear from The Teddy Bear Shop, buying for their own grandchildren.
---
This feature was created in partnership with these businesses. For more information on sponsored partnerships, click here.