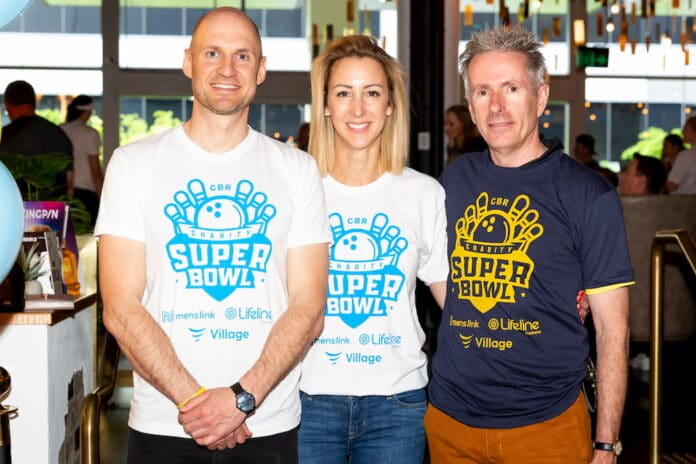 Bringing local sports stars, businesses and charities together with the fun of ten pin bowling, the inaugural Charity Super Bowl made for an uplifting afternoon in the midst of Mental Health Month.
With over 90 people converging on Kingpin Canberra for the occasion, the Charity Super Bowl saw athletes from the UC Capitals, CBR Brave and Lifeline Cavalry strike up fun alongside corporate sponsors and charity partners to raise funds for Menslink and Lifeline Canberra.
CBR Brave and Canberra Cavalry CEO/director Dan Amodio said the event was founded from the idea to create an event to raise funds for Mental Health Month and came together out of a strong relationship between the UC Capitals and his teams.
"It's just so great to get everyone together again … we missed the entire ice hockey season this year and haven't had a chance to get all of our sponsors and partners and players together for a long time.
"We had so much interest and so much excitement for this event, and that was a big part of it, we realised how much these teams, for a lot of people, are a big family," he said.
A live charity auction of sporting memorabilia raised $5,500, marking the end of a perfect game.
The Charity Super Bowl was also the debut of the newly established Village Building Cavalry Community Fund, an initiative designed to mobilise the Canberra sporting and corporate sectors to raise funds for local organisations.
Mr Amodio said the fund came about after he worked with Village Building on a fundraising project for the bushfires late last year, after which they decided to "kick it up a notch".
Having announced a naming rights partnership with the Cavalry earlier this month, Lifeline Canberra CEO Carrie-Anne Leeson said the goal of their partnership this year is to get to community to "re-imagine reconnecting".
"If we scratch people just a little bit, we'll see a bit of fear and uncertainty there, but people are obviously wanting to come out and reconnect, and that's the first step," Ms Leeson said.
"Today's about coming together, it's been absolutely hilarious … Any other sport might have a different impact, but bowling is certainly the perfect pick.
"Common cause, common ground, the great equaliser that is ten pin bowling, it's been fantastic."
Menslink CEO Martin Fisk said it was great to have support from the wider community at a time when both charities "need it more than ever".
"We need human connection. Zoom and Google Chat … they're a poor substitute; if that's the best we've got then that's okay, but they're very transactional environments, they're not that rich, human environment we crave," he said.
"Being able to provide services that allow people to connect is our way in the whole community sector to try and have that human connection and dampen down both the symptoms of anxiety and their effects."
---
For more community: